Our Story
Tyler grew up in Virginia Beach and spent most his childhood either at the beach or at the lake. Manna grew up in Eastern North Carolina, spending most of her life on a boat and living on the Outer Banks. If you can imagine, we have a love for being on the water.

We met and started dating our freshman year of college. From the beginning we could tell that we fit each other. Each passing year, we grew alongside each other into the people we are now. Settling in to the Richmond area, we found a great community of friends, a wonderful church home and great jobs that fit our passions.

In 2015, we welcomed our rainbow baby Nora She into our lives (after a miscarriage due to scar tissue). She is a mighty wee leader and it's been a joy to watch her grow into her own little self. Adoption has always been a part of our future and we are excited to now be ready to add to our little family. We are not perfect people but we strive to be the best parents we can be to our little ones.
Our Home
Our home is set back in a culdesac where the neighbors' kids get together and play. Our backyard is fenced in and we have a small playset with swings sitting in the shade. We have a great kid friendly neighborhood that has walking trails, playhouses, a dog park and a swimming pool.

They are building a new elementary school across the street from our neighborhood which will be next to Nora's current daycare.


Our City:
Richmond is a diverse city known for its food,, art, and rich history (in that order). Richmond is filled with trails and parks. You can find people tubing down the river on a hot sunny day. Richmond celebrates festivals of all different cultures and background and all are welcome! We even have season tickets to the children's musuems, where kids have all the fun. road trips? Luckily you can get to both the mountains or the beach in a few hours.

Tyler loves spending down time with family. His perfect day would be sitting at the water watching the kids play.
One of the things I most admire about Tyler is how he looks for ways to help others. Either by lending a hand, listening or giving encouragement, his thoughtfulness abounds.
He's incredibly smart and his engineering career fits him perfectly. He loves talking about design and coming up with new ways that things can be done.

Tyler loves jetski'ing, snowsking, and long walks with the family. He is also known to love bowls of cereal, and his mom's jewel cookies (a Christmas favorite).

Dislikes: Eggplant, spiders, swings, and this picture. : )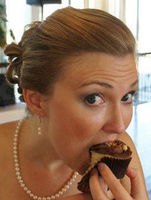 The very first time I met Manna, during college, I asked to borrow a book-bag from her. Without hesitation, she handed it over. Little do I know that a few weeks later we would start dating and she would become my wife. That's Manna, willing to help someone at a moments notice.
She's the most determined person I know. She was scared to fly before she hopped on a plane to go on a mission trip to Vietnam. It was for kids and following God's will was bigger than her fear.
I love the way she loves us, her family, her friends and the people around her.

Manna loves the summer, Vietnam (and all the food there Pho!), time with family, coffee and Broadway

Dislikes: Marshmallows, whipped-cream, and cold weather.