Our Story
Like many people these days, we met through the internet. On our first date, we knew it was a good match because we spent six hours together at the coffee shop! Thom even let Rachel teach him how to make a paper crane. We went out to dinner, went to the art museum, and started to meet each other's friends and family. When Rachel was planning to move about a year after we met, we decided that Thom would come too! We soon got engaged, and a year after that we got married. We have been hoping to complete our family with children for a long time now. In the meantime, we work hard and have a lot of fun. On weekends during the warmer months, we like to go for long hikes followed by ice cream from a local creamery. We like spending time with friends and really enjoy having a bunch of people over to eat a big meal together. We approach the world as a team, whether it's taking care of the house, figuring out how to work through the adoption process, or deciding what to watch on television tonight.
Our Home
We live in a four-bedroom house in a quieter neighborhood of a city. We value living in a diverse area where we can easily get to all sorts of stores, parks, and museums. The house has plenty of room for a nursery, and the yard is begging to be filled with a swingset and playhouse. Our neighbors are also great, often sharing homemade food and pet sitting for one another. We have three cats who are adorable and playful.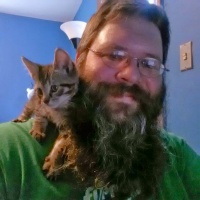 I work from home as a video editor now, but I have held down a diverse set of jobs over the years. I have been a delivery driver (both flowers and food), a short order cook, a security guard, a garbage can repair person, a web designer, and a dyer of yarn. I'm equally comfortable pushing a broom or sitting behind a desk, and I put all I've got into whatever job I am doing. My current position affords me a great deal of creative control and scheduling flexibility, which will be extremely helpful when we have a child. I will be able to work part-time and care for our child full-time while still earning a decent income.

In my personal life, I fill my time with a number of interests. I love to cook, but that's not the only hobby I'm passionate about. I'm an avid reader, mostly science fiction and fantasy, and comic books are especially a favorite. I like movies and comedy, and I have a special place in my heart for cartoons. I love music of all kinds, literally. Name a genre, and I could probably tell you a favorite artist or song. I love playing board games, and I belong to a pinball league that meets once a week. I'm an enthusiastic if not very skilled woodworker, and I enjoy making furniture, boxes, and outdoor games. I also love to paint and draw, and my current project is a children's book that I hope to someday share with our own child.

I became a psychologist because I have always wanted to contribute to making the world a better place. I am excited to put into practice the parenting skills that I have taught so many others and to help a child develop healthy ways of experiencing their own emotions. My current work is the perfect mix of a fulfilling career and reasonable hours. Therefore, I can easily balance work and home while being the primary breadwinner for our household.

Knitting is one of my favorite hobbies. After knitting so many booties for my friends' children, it has been exciting to start knitting for our child - I already made a pair of overalls, and many more stuffed animals, sweaters, and blankets will come! I do a lot of fun activities with Thom as well, playing board games, hiking, and playing pinball. I have been a lifelong reader, and enjoy sitting in our living room full of books and delving into a story.