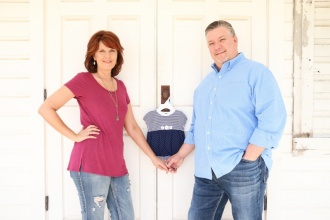 Our Story
We met at a surprise birthday party for Dean's twin sister! Neither of us were looking to date at the time but God had other plans! After dating for several months, Dean proposed on a footbridge over a river during our horse-drawn carriage ride. We were married on the beach in Jamaica (our dream wedding!) and we LOVE the beach. We really enjoy taking vacations and spending time together.

There is a local park and lake with botanical gardens that we take walks at and it is a great place for kids to run and play. We love laughing together and having fun!

Our Christian faith and church is very important to us and we will raise our child or children to know Jesus as their Savior.

Dean works in banking and Brenda is a part-time administrative assistant.

Brenda has never had children and we would love to raise a little girl together! Dean has 2 adult sons and we have 2 daughter-in-laws and 2 grandkids that our child can grow up with!

Our parents are excited to welcome a grandchild and this will be Brenda's father's first grandchild.

We are excited to continue our story with a little girl in our family!
Our Home
We just finished building a new house in Missouri and it will be fun to set up a bedroom for a little girl! Our fenced backyard is a great place for kids and doggies to play!

There are great parks, walking trails, lakes and amusement parks nearby, and fun family time is very important to us.
About Brenda...Dean's Perspective
Brenda and I met at a birthday party that I found out later she wasn't planning on going to. Boy am I glad she did! LOL! The moment I saw her my heart skipped a beat. As I got to know Brenda over time, I realized that not only was she extremely beautiful outside, but extremely beautiful inside!

Brenda goes above and beyond as a bonus mom for my grown children and the most wonderful nana to our grandkids. She is fun and funny to be around, and is caring and considerate to everyone she meets. Everyone says she is a lovable and likable person.

Brenda is a talented jewelry artist and sold her creations as a part-time business while she worked full-time as a project and events coordinator. She currently works part-time as an administrative assistant so she will be able to spend more time with our adopted child. She also has a heart for the Deaf and learned sign language to be able to communicate with them.

Brenda has stolen my heart, and I thank God for her every day. Not only has Brenda been a blessing to me and the people in her life, but she will be a wonderful and loving mother to that special little girl that God brings into our lives! How do I know? Because she picked out the most beautiful little dress as a reminder of the promise God has given us, and Brenda is Heaven sent!


About Dean...Brenda's Perspective
It was a busy Saturday when we met. I had been invited by Dean's mother to attend his sister's surprise birthday party. I had so many things on my to-do list that I almost didn't go, but I'm glad I did because I met Dean there! Come to find out, it was his birthday party too because they are twins!

The first thing I noticed about him was his kind eyes and his smile. I felt like I could see his heart through his eyes. One of the things I love about Dean is his sense of humor! On our honeymoon, Dean put a Jamaican hat and dreadlocks on to be silly. He always makes me laugh!

Dean currently works as a fraud investigator at a bank following a career in law enforcement. When he worked in law enforcement, he chose to work in the schools because he loved kids of all ages. Many times when we are at a restaurant, Dean will ask the teen server how their day has been and what their major in school is, just to show interest in them and to make them feel valued.

Dean enjoys going to watch the Royals and Chiefs play and there is a nearby park and lake that we like to go to. More than anything, he wants to live to leave a legacy of his faith in Jesus, leading his family with love to know Christ. He is my Prince Charming!