Our Story
Brandon and I met 10 years ago at our church. Brandon chased me down (which I didn't mind) :) we started dating and a little over a year later we got married. It's been an amazing 9 years since we got married and we look forward to the years ahead. We both love traveling on vacations especially to beach areas. We are able to go to Hawaii often since Brandon's parents live there. We enjoy playing piano (Patricia) and drums (Brandon) . We love spending time with family. We enjoy activities like taking walks, playing soccer, mini golf, and many others. We adopted our precious baby girl in 2015 and love being parents so much! Our daughter Olivia is the love of our lives. We enjoy taking her fun places like the zoo, mini golfing, butterfly pavilion, parks, beach, and her gymnastics, swimming, and dance classes. We are so excited to welcome a new baby into our family that we can love! Brandon works as an HVAC technician and has a great 4 day a week schedule. Patricia works as a Piano Teacher. This makes for a very flexible schedule and allows her to be a stay at home mom with Olivia and continue doing that with the new baby. We enjoy spending family time together. One of our favorites is getting together for my (Patricia's) Dad's famous BBQ ribs with the whole family. We also enjoy karaoke when we get together ( even though we don't sound too great! Haha) We also enjoy getting Olivia together with our 2 nephews, they all love playing together.
Our Home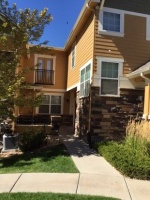 We live in our adorable townhome in Colorado where we have plenty of room both inside and out. Our community reminds us of Europe, the townhomes are all painted different colors and have walking paths all over. We have an outdoor area perfect for playing in. The path in our neighborhood takes us right into a park with a nice playground where we enjoy taking walks. We have a community pool for the hot summers too!
Hi! I'm Patricia! I consider myself to be an easy going, fun, energetic, loving, and responsible person. I enjoy my life as a wife and mommy! I also enjoy working as a piano teacher to kids for the past 10 years. This allows me to be a stay at home mom to Olivia and our future baby. I have always loved being around children and worked as a preschool teacher. I have always wanted to be a mommy since I can remember. Throughout the week I take Olivia to parks, her gymnastics and dance classes, the zoo and other places. I have always wanted to be a mom and am so excited to have the privilege of doing that through adoption!
Hi I'm Brandon! I have been described as a happy, energetic, and sensitive person. I love spending time everyday with my family. After work I enjoy sitting down at the table for dinner with Patricia and Olivia to talk about the day. I have a 4 day work week which allows me to have 3 days off every week plus my evenings on the days I work. I work as an HVAC technician which I enjoy doing. During my time off I enjoy family activities like going to the park, mini golfing, playing soccer and drums. I love having time every day where I get to goof around with Olivia and read her stories. I truly value family time and am very excited to welcome a new baby to love and have fun with!