Our Story
After knowing each other since 2008, we were married in November, 2014. We were honored to have our large supportive family and many, many friends join us to celebrate our union at a resort in Northern Virginia. We purchased a townhome together in 2013 in northern Virginia. We picked our neighborhood for its quality of living - outdoor trails, access to recreation, a reasonable distance between our work locations and an excellent school system - our child will attend a well-known and high-performing elementary school. We both golf and shortly after moving to the area we joined a country club with golf, tennis, swimming and fitness facilities and family and social events. We enjoy walking, spending time outside, traveling, cooking, eating and spending time with family and friends. We love our pets - we have a dog, Ellie (aka "Boo"), and two cats, Winston (he's quite large) and Kallie (she's quite small).
Our Home
In northern Virginia, about 30 miles from Washington, D.C., we live in our spacious, warm, and inviting three-level townhome. Our community nestles against a country club and is close to many parks, shopping, great schools, and public venues. We have plenty of room to welcome and raise a child in our home. We also have an additional guest bedroom for our parents to come visit. Jeremy's Mom recently retired and she's been invited to visit anytime; Mike's parents have already told us that we'll be seeing even more of them! The upstairs of the townhome has three bedrooms and two full baths. The main floor is a completely open concept with a large living room, big kitchen where we both spend a lot of time cooking and trying new recipies. There's a half bath we redesigned together - new vanity and fixtures. The dining room is a special place in the house. We've hosted Thanksgiving, Christmas, and several birthday dinners here. It is also home to a piece of furniture that has been in Mike's family since the 1960s - it is a beautiful hardwood buffet that Mike's grandmother gave to him. There is also a large deck off the kitchen. Downstairs there is plenty of play room for our child - Jeremy's office will also be down there and another full bath and pull-out sofa. Finally, there's a patio off the lower level that we use extensively.
I was born and raised in Northern Virginia by my loving parents. I was a very happy child with supportive and involved parents and had an exceptional childhood. My parents raised me as a team, which Jeremy and I intend to do with our child. My Mom raised me in a more emotional capacity, while my Dad provided real-life guidance based on his life experiences. My childhood was filled with sports, playing with friends in the neighborhood, riding bikes and just having fun. Sports, such as soccer and baseball, were my passion and I know Jeremy and I would encourage our child to pursue his or her passions, whatever they may be. Being the oldest of three brothers, I was, and still am, very supportive of my brothers in everything they wanted in life and, of course, I had some of my Dad's traits as I provided them some good advice. Being in a loving and caring family has led me to the same in my relationship with my husband. Love, humor, and respect is what I bring into our marriage, which I know will be just some of the traits we will pass along to our child.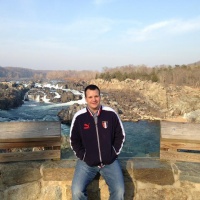 I was born in Michigan and raised by my Mother. I had a great childhood and was very close to my grandparents and my aunts and uncles. Unlike Mike, I wasn't gifted (at all) with sports. Instead, I spent time in after school activities like drama club and learned to play the piano. I hope to teach the piano to our child some day along with the joy that music brings to one's life. I am still very close to my family even though they live quite far. After finishing my BA, I left Michigan and relocated to the DC area. I had both a job opportunity and graduate school acceptance. I worked while going to grad school. I've lived in the area for almost 14 years. The highlight of living here, despite the job opportunities and furthering my education, was meeting Mike. I am happy to be in a loving marriage with him. We work well together - we have a whole lot of respect, love and humor between us and we look forward to sharing that with our child soon.