Our Story
For our first date, Steven took me out for ice cream. A long walk on the beach followed. Over time, we developed a very strong bond. Steven proposed after dating for two years. I said "YES!" and we had a sunset wedding overlooking the same beach where we took our fist walk.

We've been together for seven years and have created a great life for ourselves. We are happy, active, and financially secure. Best of all, we love working together and making a difference in people's lives.

I have always wanted to be a mom and Steven loves being a dad. Since we would love to raise a child together but are unable to have children, we have decided to adopt. We are both incredibly excited to begin this new chapter together.
Our Home
We live in a small village in New York close to the water. It's a close community.

Our Gold Medal school district offers amazing educational and enrichment opportunities. Children in the school are active in art, music, and sports.

In addition to having an excellent school district, our neighborhood is very connected with weekly summer concerts, community garage sales, annual festivals and many other events.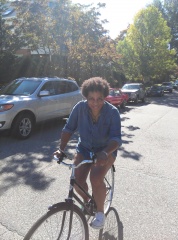 (by Steven):

I would describe Josie as honest, compassionate and easy to talk to.

She loves physical activities like bike rides, tennis, and evening walks - but is equally comfortable reading a book or painting (she is a great artist).

Josie loves my children from my first marriage Emily, 20 and Kevin, 23 and has gradually become a special part of their lives.

Josie loves being a step-mom and has a natural mothering nature. She is patient, supportive, encouraging and a great role model for the kids.

Kevin was the best man at our wedding and Emily was the maid of honor.

They are super excited for us to adopt. As big brother and sister, they look forward to playing with and protecting your child.

I'm truly grateful for Josie as a wife, partner, and mother.
(by Josie)

I would describe Steven as a very genuine and great guy. I just felt so comfortable with him from the first day we met. What I love most about our relationship is that we can talk to each other about anything.

He is very smart which leads to a lot of fun debates and has a great sense of humor, so he can really make me laugh. I admire his commitment to making a difference, his openness to try new things, and respect his ability to continuously grow.

I appreciate him because he is a devoted dad with close relationships with both of his children, Kevin and Emily, and a dedicated husband.

I can't imagine a better person for me to raise children and spend the rest of my life with.