Our Story
We met 5 years ago in California on the set of a TV show. We both work behind the camera to help make TV & movies. At first our relationship was only a friendship. After all, Lisa was Rob's boss! It wasn't long thereafter we realized we had similar interests. We share the same taste in music, our desire to travel, how we were raised, and how we wanted to raise our family with our Christian beliefs. Rob's entire family is Puerto Rican. He is the first of his generation to be born in the states. Early in his childhood, he lived in Zurich Switzerland where he was exposed to many cultures. Lisa lived in Delaware, Alabama and Hawaii, where she moved on her own. Hawaii is where she considers home, but has since moved to Los Angeles and New York. Based on our individual experiences, something that is profoundly important to us is the value and respect for all cultures, ethnicities, and individuality. In our eyes, everyone is created equal. No exceptions. This is one of the fundamental values that attracted us to each other.

From our first date to our wedding date, is exactly 10 months to the day. Obviously it didn't take us long to know we were meant to be together. During those 10 months, we moved from Los Angeles to New York for work. We drove across the country together and on the way we met each other's families. We stopped in Texas, Alabama, Florida & Delaware. We met all of Lisa's brothers & sisters (She's the youngest of 5!) and we met Rob's family (He's the oldest child of 2). Not long after we settled in New York, we got married.

We love the beach. We love the ocean. We love dogs! Growing up we both had dogs and we believe every family should have one. After we got married we got a chihuahua and named her Meli. She loves the beach too and she loves kids and babies. She is now 3 years old and we take her everywhere with us and on every vacation.

Speaking of vacation when we're not working we love to travel. We often visit family every year and travel abroad. We are so excited to take our child home to Lisa's annual family reunion at Mardi Gras or to Rob's extended family that lives in Puerto Rico. When we're not visiting family we dream of taking our child to other countries and experience new cultures.

And of course we can't forget to mention our love of Hawaii. As mentioned before, it is Lisa's home, where our lifelong friendships are also our family. The culture and lifestyle are so special to us, something that we can not wait to expose to our children.
Our Home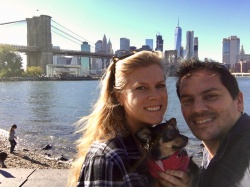 We live in Brooklyn, NY, a quick stop away from Manhattan. Our neighborhood is great for kids, with tons of parks along the water and kid-friendly events all year long. The building we live in is awesome and very family oriented. With 24 hour security it is also very safe. Neighbors know each other and watch out for one another. All of the kids and parents are engaged in activities and events together. There's a large rooftop space with a beautiful view of the city where the families who live in the building get together and have Halloween, Christmas and birthday parties. Halloween is very popular in our building! We go through 2 huge bowls of candy in an hour! We love how our building is a true community.
Rob's thoughts on Lisa~

Lisa has a huge heart. She is always looking at the world and wondering how she can make it a better place. She's always honest, incredibly loyal and has an infectious laugh. When she laughs it makes you want to smile and join in on the fun.

Lisa also has a creative side that comes from her mom's side of the family. She enjoys painting and making pottery. Almost all the paintings in our apartment are an original piece that Lisa made.

Lisa has 12 nieces and nephews. She was a big part of their growing up. Along the way, she picked up a thing or two about raising children and recognizing how unique each one of them are. I know that each one of her family members, her closest friends and especially her nieces and nephews mean the world to her. I know she is thrilled to put those skills to use with our own child one day.
Lisa's thoughts on Rob~

Rob is remarkably kind, trustworthy, and sees and treats everyone as equal. He is honest, fun-loving, attentive and compassionate. He loves to play and have fun. He enjoys life and always has a positive outlook. He has an amazing gift of being incredibly patient and treats everyone with kindness and respect. He never holds a grudge and is even-tempered.

I know that he is going to make an amazing dad. I know this because I see how he interacts with our nieces and nephews and how much they love him. No matter what age, he gets on their level and engages with them. He listens, cares, and tells them stories. Every birthday, he sends each one a unique song/or rap, something that's completely goofy on their voicemail to wish them a happy birthday. They love it. I'm starting to think that all of my family and friends secretly love him a little more than me! ;)