Our Story
We first met when we worked together at a local grocery store in high school. We started dating a few years later when we were both in college. We are best friends who have fun together no matter what we are doing. We have been together for over 9 years and have been married for 6 ½ years. We have 2 dogs, Simon (a Morkie) and MeMe (a Boxer). Both are great with kids and love to snuggle! We enjoy going to baseball and hockey games and rooting for the Cardinals and the Blues. We are very close to our family and often get together on the weekends for a barbeque or breakfast on Sunday after church. We also love to go on vacation and have most recently spent a long weekend together at the Lake of the Ozarks.
Our Home
Our home is one story house with a partially finished basement. There are two bedrooms and one and a half bathrooms. There is a fenced backyard and patio area. We have neighbors on both sides and behind us but the mature trees and shrubbery create a nice private backyard. We are within walking distance of the neighborhood park as well as Chris' parent's house. The park has a playground, swings, and a baseball field. It is also a great place to walk our dogs. Our home is located in a top school district and is close to many parks, rec centers, malls and athletic associations.
Chris graduated from Missouri State with a degree in Criminology. He works as an Estimator at an Auto Body Shop. Chris has a younger brother, Corey and a younger sister, Amanda. In his free time Chris likes to play sports, go fishing and watch superhero movies. This October Chris became an Uncle to his brother's first child, a baby boy named Jonathan!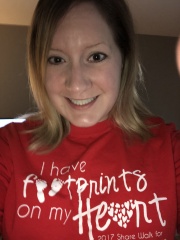 Anna graduated from Maryville University with a degree in Marketing. She works as an Incentive Coordinator at a Fleet Management Company. Anna is an only child. In her free time Anna likes to go shopping, read books and have dinner with friends. Anna is also a Team Captain for the March of Dimes, March for Babies and for the Share Walk for Remembrance & Hope.