Our Story
Gene was a friend of my (Kira's) brother. I wanted to get married, but it wasn't working out. Then I noticed Gene, who would come over to our house every once in a while to hang out with my brother. He matched my criteria - tall, Jewish and plays guitar - so I thought he'd be a good husband. I emailed him saying that I want to talk and he replied that he's been wanting to talk for a while. So he came over, we talked and four months later - we got married! Woo hoo! This month will be our 11th anniversary and we have a great family to show for it. We love each other and our two boys and we have more love to give to your baby. God is good!


Our Home
We have a small but comfortable house with four bedrooms and two bathrooms, plus an enclosed sun room and back yard. It's warm and cozy and keeps us all close together.
I am calm, patient and responsible. I work hard and take care of my family. I love my wife and kids and we have fun together going on trips and vacations.

My family can rely on me and I'm good at listening when someone needs to talk.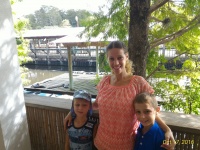 I'm funny, nice and responsible. My family can count on me and I try to find fun things for us all to do.

I like to make desserts (and eat them) and my husband and kids seem to be happy with me. God is my helper!