Our Story
A little about us:

We just celebrated our nineteenth wedding anniversary. We have a wonderful twelve-year-old son named Noah and two incredibly sweet tiny dogs named Poppy and Yumi. We both come from loving families with whom we remain very close. We are also blessed to be surrounded by an amazing group of friends who might as well be family. We have always known that we wanted to be parents to more than one child and we can't wait for the day we finally get to hold this baby we have been waiting for in our arms.

Our Story:

We met at a party of a mutual friend. Although we were young, we knew early on we had found our perfect match in one another. We started dating and we have been inseparable since. After dating for seven years, we were engaged and then we were married six months later at our church surrounded by our family and friends. Life has been a great adventure ever since: • We moved from the Netherlands to Belgium • We have faced the loss of loved ones, dealt with the struggles of infertility, and tackled the challenges that inevitably come with parenthood, all of which have deepened both our faith and our marriage. • The biggest highlight, by far, has been the adoption of our son Noah and the joy we have experienced watching his interests, talents and personality develop over the years.

About Noah:

If we had to describe Noah in three words, they would be outgoing, adventurous and versatile. He is doing well in school and loves playing sports, especially hockey and horseback riding. When he is not busy building new creations with his Legos, he enjoys playing with friends or running around in the backyard with Poppy and Yumi. Noah is looking forward to being a big brother and finally starting our new life as a family of four.

What We Enjoy As a Family:

As property developers we arrange our own schedule and we are able to do most of our work from home. This lifestyle provides us with lots of time to spend with our family, without being dependent on day-care, which we are very grateful for. Spending time with Noah and hopefully your baby is priceless and we enjoy every minute of it!

As a family we love to travel. Our favorite destination so far is Mallorca, one of the Balearic Islands in the western Mediterranean. Travelling to England, Italy, France and China was also fantastic! Whenever Noah wishes to go back to China we will return to visit his native country. We have not travelled to the USA yet, but it is on our wish list. We are very excited to come to the USA to meet you and the baby!

We also love to get out and take advantage of the fun things Belgium has to offer. On Wednesday afternoons and on the weekends we usually go to a theme park, the zoo, the playground, the movies or do more active things like biking, swimming or taking a nice long walk in the woods.
One of our favorite things to do is sailing. We like to go to the Dutch Venice, where a boat is essential, because there are no roads; people have to travel by water or on foot over the lovely wooden bridges.
In the winter, we enjoy going up to the nearby mountains to go tubing and play in the snow. We also have what we call "Friday Family Fun Night" at the end of every week, which can be anything from a bowling match on the Wii (or at the actual bowling alley), a game of Monopoly, or a movie night.

We hope that by reading this you will get a glimpse of what your child's life would be like should we be fortunate enough to welcome you both into our lives.
Sincerely,
Geoffrey and Chantal

Our Home
We live in Belgium, a small country in the heart of Europe.

In 2009 we bought the house we now live in and we renovated it ourselves. We put a lot of effort and love into the renovation, to turn the house into a home where we would like to spend our time and welcome our family and friends.
The area is known for its great schools and family-friendly neighborhoods. Our village is situated near the countryside and we enjoy the beautiful nature that surrounds us. We love to go for a walk between the fields and creeks and to take bike tours and have picnics.
Our neighborhood is full of other families that we enjoy seeing on our walk to school in the mornings or having over for playdates. We have a great backyard with lots of room for playing soccer, baseball and a big playhouse.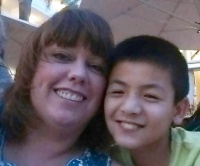 Geoffrey about Chantal:

Meet Chantal, the love of my life. We met at a relatively early age, and our relationship blossomed instantly. She is the most loving, caring and generous person I have ever met. She has a big heart and she expresses deep compassion for those she interacts with on a daily basis. Her selfless nature and unwavering dedication to me and Noah is such a blessing. Our home is a happy and peaceful place, and this is in large part due to her influence.

Chantal about Geoffrey:

Geoffrey is my soul mate - I figured that out pretty soon. He is the most wonderful husband a woman could ask for. He is a very generous and caring person who loves being around family and friends. He has time for everyone and will always help friends and strangers in need.
Geoffrey is the most amazing father. He is patient and loving. He is the first to offer a lending hand and the last to complain. We are extremely lucky to have him in our lives!