Our Story
Thanks for talking the time to find out more about us. We are an active and social family that enjoy spending time outdoors, traveling and sailing. As a family, we value learning and experiencing life; education is a priority as is being out in the world taking in new ideas, cuisines and cultures. We are self employed and work as a team building a successful business together. We work from home most days and our work schedule is fairly flexible. Most days you will find us exploring the beach in front of our house with our 5 year old son, out sailing or surfing on warm sunny days, or possibly a hike through the local trails and rivers. Staying healthy and eating healthy are important to us. We love new challenges and adventures. Ask us at anytime and we are probably planning a far away adventure to some unknown spot in the world.

We both come from larger families with a strong sense of community. Being parents and raising a child has always been part of our family plan since we were married in 2008. We love having kids around and cant wait for the day we can add another child and hear the sound of laughter and little feet pitter-patter across our home.
Our Home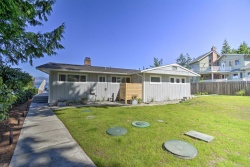 We live in a cozy kid friendly neighborhood on the Olympic Peninsula in Washington State. Its a quiet community with several young families to enjoy plenty of play time fun and laughter. Our home overlooks the water and steps from the beach. We love to watch wales, dolphins and seals play in the bay in front of our house. The best part, daily walks on the beach with our son and dog Samantha.

We have already finished setting up our nursery for the new baby and anxiously await bringing him/her home.
Chris likes to often be the image of a man's man. He finds joy in adventure and ruggedness. He loves to be on the ocean surfing or sailing. If he is not using his analytical skills to study insurance market trends and forecast, he is working on our house swinging a hammer and finishing up a large home remodel. He is a "Do It Yourself" kind of person and really enjoys accomplishing something he has never done before. Build an entire kitchen by hand, check, rebuild a sailboat engine, done that, advising Congress on insurance markets, no problem! He loves hiking through the woods covered head to toe in mud or buried in saw dust from a recent woodworking project. But there is a secret through all that manly-man persona...
​
He is the sweetest man you will ever meet!

He does not like watching scary movies because he screams at every surprise. He cries when he sees an image of anyone suffering and he loves to sing whenever possible. In the grocery store and you hear a 6 foot tall, bearded man singing "Baby Love" by Diana Ross, that is Chris. Oh, and spiders, don't get him started on spiders, he hates spiders! He rarely smiles for photos but as soon as you turn the camera away, he is smiling ear to ear!

This is why I love Chris and what makes him a great parent and father. He is disciplined and focused when he needs to be, but would much rather tell you how much he loves you, sing loudly in public to embarrass you, and finish it off with a great big hug and kiss.

His compassion will always stop to check if someone is okay on the side of the road and if a stranger asks, will happily give them the shirt off his back. He gives his free time to raise money for youth recreation sports programs for underprivileged kids and genuinely wants the best for everyone. Pillow fights and staring contest with our son is a nighly event. His youthful wit and sense of dad humor has on many occasions left the house rolling on the floor laughing.

These are just a few characters he will pass on to our next special little one. Being a father is something he talks about constantly. "I cant wait to do this with the baby" or "we should totally do that," he is already planning our next big adventures as a family of 4. He cant wait to start a new adventure.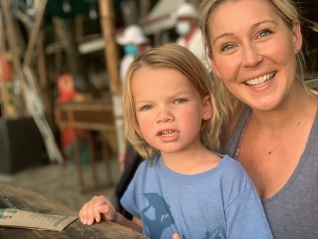 Where do I start? Natalie is truly an amazing person. I have been so fortunate in my life to find such a wonderfully strong women, wife, best friend and partner. I know that she will reflect that same love, eagerness and compassion to any child we are blessed to adopt.

We met in 2002 and have been inseparable ever since. She is constantly pushing herself to be better. She has the incredible ability to make the most amazing food with the simplest organic ingredients. Eating healthy is very important to her but don't be surprised if it's a homemade pizza or scratch chocolate desert that I promise, is the best you have ever tasted.

On those rainy days when we are not outside, you can typically find her reading a book to our son or playing hide and seek.
​
Have I told you she is amazing! She is my universe. She loves to crack jokes exactly at the time when you do not expect it.

Everything in her life has been staged to accomplish that singular goal of being a great mother. She beams with motherly personality to make any child around her feel loved and cared for. A secret family trick is if any baby is crying, give them to Natalie. She has the patience and calm demeanor to make any baby stop crying. I know together, raising another child will be the greatest reward we could ever achieve.