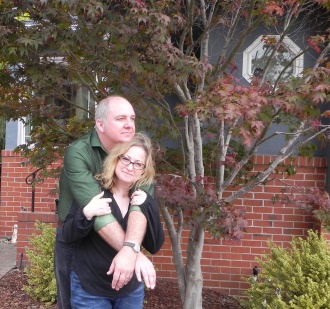 Our Story
We've been married nine years, together a few more. We met in grad school in Wisconsin, where we both studied English Literature. We started dating right after we met, and five years later, we got married in a classic movie theater. We planned on becoming English professors, but life had other plans. After a few years teaching in Louisiana, we decided we'd be a lot happier in California, where Amy's from and where her mom still lives. We've settled for keeps in the Oakland hills, sharing our space with our rescue animals: two very child-friendly huskies, Zora and Gus; and two cats, Fiona, and Mahfouz.

Most days we both work from home. David is starting his fourth year teaching for Stanford University's Online High School. It's a great place to work, and because his classes are online, he can teach from anywhere—usually from home. Amy is
a freelance writer and editor.

During the day, we take the dogs on a long walk or hike—often in our local park, which has hiking trails and bustling playgrounds. We also enjoy meeting up with friends for dinner or having them over, going to a local farmers' market, or getting to know some new corner of the East Bay. There's a lot to discover! Around our home, Amy enjoys gardening in our yard. We cook dinner—Amy loves making Indian, Asian, and Latin American dishes, and trying new recipes. We often watch a movie in the evening. (Amy also studied film, and she writes a film blog.). Of course, one of our passions is reading. Amy still has all her favorite books from childhood, which she looks forward to sharing with our child.

We enjoy travel. Our best friends are in South Carolina and we visit when we can. We've been to Turkey with Amy's mom, the Netherlands with friends, and want to go to Iceland. Amy's parents traveled with her when she was little, and we hope to give our child the same opportunity.
Our Home
Our three-bed, two-bath house is in the Oakland hills in Northern California. We're ten minutes from everything—parks, grocery stores, restaurants—and we have an amazing view of the San Francisco Bay and the hills. We picked our home with our future child in mind: it has open space with lots of light and a big backyard. We are putting in a grass play area and a large edible garden. It's important to us that the garden is also a place for kids to play, and not an off-limits "adult" space. We want to have a yard that's popular with neighborhood kids.

One of the main reasons we settled in the Bay Area is because we believe strongly in diversity. Raising children in a multicultural environment lets them know people who are different from them, and gives them the stimulation and fun of getting to know other cultures.
I grew up in Culver City, southern California, in a small, close-knit family: my parents, my grandmother, and me. I was very close to my dad, a Spanish-literature professor at UCLA, who passed away in 2007. My mom (an elementary school teacher for thirty-five years), and I email each other every day, talk on the phone, and visit regularly. Keeping in contact with my friends—some from as far back as elementary school—is also very important to me. My parents gave me a sense of security for exploring the world. They wanted me to have a good education, and enjoy life. I was raised to care about other people, no matter how different from me they are. They played games with me, took me to museums, parks, movies, the library, and on my dad's trips to Spain. I look forward to doing the same for our child. My mom plans to move in with us in the future, so our child will have a live-in grandma for support and additional cuddling and goofing around.

(This is me with my best friend, Alison, and her daughter, Roxy.)
I'm from the rural South, a 10th generation North Carolinian. Growing up, life for me and my sisters was mostly school, church, and farm work, and, I appreciate the values my upbringing taught me: hard work, honesty, self-sacrifice, and the importance of family. They taught me how different good people can be. I'm from the first generation of my family to go to college. I visit at least once a year, and I'm looking forward to teaching my child how to cook collards and catfish and biscuits and such.

(This is me greeting one of the many, many stray cats during our trip to Istanbul.)