Our Story
Ok here we go, this is us! We met 7 years ago while we were both volunteering at a local animal sanctuary. We had a nice little chat outside a tiger enclosure and then spent the next 2 hours watering the big cats together. We've been married for 5 years now. We really love our love story!

We are avid believers in using our imaginations so we can make any scenario fun. We spend a ton of time outdoors. We live in the Black Hills National Forest. It's a truly beautiful place with endless outdoor possibilities. We do a lot of hiking and camping while it's warm, and snowmobiling in the winter. We love to travel! We take frequent road trips and our goal is to visit a national park in every state. Last year we spent an unforgettable 4th anniversary in Ireland.

A typical evening finds us at the kitchen table for supper. No tv or phones, just us tuning into each other and our day. We can be a little old fashioned about some things. As adults, we realize the value in some of the things our parents did with us. Quality time takes work sometimes. Every evening we take the dogs for a bike ride or a walk. Warmer weather finds us on the deck, putzing in the yard or playing bball in the driveway. Winter months we snuggle up on the couch for some tv.

We believe in nutrition. We are fortunate the both our parents gift us with home grown beef, pork, elk and deer meat. We have a vegetable garden in the summer and can a variety of food for the rest of the year. Fast food is a rarity at our house. We cook the majority of our meals from scratch. Vickie does most of the cooking during the week and on the weekends Jason makes breakfast and fires up the grill.

Our favorite holiday is Halloween. It's all about fun and no stress! We've spent the last couple years making a lot of our own Halloween decor to make our front yard spooky and fun! April Fool's Day is also at the top of the list. I mean really, whats not to love about pranking people all day long?!

We are animal lovers! We have 4 furry critters and no worries, 4 is our limit!

Aspen is our 7 year old German Shepherd/Malamute mix. She is the mother hen of our crew! She's gentle with all her "siblings" and LOVES when our friend's kids are here. She is always ready to play with them and is tolerant of little hands that unintentionally get a little rough.

Zorro is also 7, he's our quirky, black and white kitty that is constantly making us laugh! He is a fan of cuddles, his purrs rumble the whole house, he loves laundry and playing fetch with jingle balls.

Cooper is our 1 year old Border Collie and he is just a ray of sunshine! He loves everyone and he exists to play frisbee and makes us happy. Although young, he is already so gentle with kids. He loves to "herd" the kitties around the house, as is his breeds natural tendency. He is such a happy guy and shows it by wagging his tail with his whole body!

Jasper is our 1 year old gray and white cat. He finds everything fascinating, he's a bit of a pack rat and can turn anything into a toy. So far he's generally too busy to settle down for many cuddles.

Weekend trips to their grandparents will be so much FUN! Vickie's parents Jim and Priscilla and oldest brother Jared are ranchers. This means riding horses and atv's, wide open spaces to run and cuddling up with newborn calves. Grandma will be so happy to have extra hands to help tame baby barn kitties every spring and to have another fishing buddy!
Grandpa will be thrilled to have company in the tractor and he loves to teach them everything he knows.
Jared and his wife Lisa have 2 boys. Jaxson 2 years and Joshua 3 months.
Her middle brother Jason lives in Minneapolis where he manages a large landscaping business.
Vickie's aunt Gladys has always been a close member of the family and shares in most family gatherings. Vickie also has several aunts, uncles and cousins that live in the Black Hills.

Jason's dad Nick and his stepmom Jo loving fishing and day trips to the mountains to cut firewood. Many of our weekends with them are spent fishing with them and Jason's Grandpa Jim. Jo is very loving, patient and generous. Every generation of his family is known for their story telling, Jason's dad being the most prolific of all! Much of our time together is spent laughing over their tall tales.
Jason's mom Carolyn lives 45 minutes away. She is a gentle person who loves to teach her grandchildren how to craft and create beautiful things. For the last year, she's been caretaker to Grandma Isabel, who was adopted as a young girl.
Jason's older brother Scott lives in Indianapolis with his wife Mellissa and their daughter Kiah, 17 and son Kayden, 15.
His younger sister Nicole and her husband live locally with their 4 boys. Michael 15, Dillon 7,
Kelton 4, and Hudson 7 months.

We usually alternate holidays between side's of our families. Since Jason's dad and Vickie's parents are each about 200 miles away, we don't try to see everyone for each holiday. That way we get quality time with less stress. Holidays are pretty traditional. Great food, family games, Christmas movies and gratitude for being together.

Before we even met, we both always had it in our hearts to be parents. It didn't even occur to us that it wouldn't be a possibility. We have spent the last 4 years trying unsuccessfully to conceive. We came to the realization that our desire to be a family had little to do with genetics. We simply want a baby to love, nurture and cherish. Jason is so excited to teach them everything he knows and spend time doing big projects, little funnies and everything in between!
Vickie is a cuddler and can't wait to go on silly adventures and splash in rain puddles!
Our deepest desire is to be a whole family.




Our Home
We own a 4 bedroom, 2 bath house on a quiet dead end street. The nursery will be on the main floor with us. We are working on a forest theme for the nursery that we think will be cozy and cute! We have a large backyard that is completely enclosed with privacy fencing.

We live 2 blocks from the coolest little swimming hole in the creek and the playground nearby just installed brand new equipment last year.

We live across the street from the High School football field, with the middle and high school just beyond that. We have a great public school, ranked 13 in the state. Spearfish is also home to BHSU, so higher education is easily accessible. We believe education is extremely valuable and we will encourage our child to pursue college after high school. The college has teamed up with the high school to offer advancement opportunities to students who are up for an academic challenge.

While we place great importance on studies, we also believe that learning can be fun through travel and experiencing life through new adventures. We hope to gently nurture any natural talents that our child displays, while also exposing them to music, arts, and sports. We intend to strive for balance. School and extracurricular activities, but for sure saving time just to be a kid!










Jason enjoys summer rides on his motorcycle, restoring classic cars and hunting. He's a selfless person with a great sense of humor and a big heart. At home, he can be the biggest goofball that gets both us of giggling! He is the first person his friends call when they need a hand. Jason is patient, hardworking, loyal and protective of the people he loves.

Jason is co-owner of an autobody shop where he is also head painter. He works Monday-Friday so we love spending weekends together! He enjoys comedy and adventure movies, he is a super handy fix it guy around the house, and is on a winter bowling league.
Jason is a hands on husband and I know he'll be an amazing hands on dad, I can't wait to see him in that role!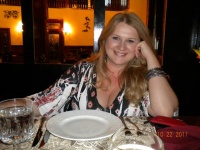 During the winter months, Vickie likes to read, quilt, and cook up a storm in the kitchen. As soon as the snow melts, she is outside playing in the dirt. She has planted over 300 flower bulbs in the last two years. The numerous flower beds around the yard are really starting to pop with color! Spring thunderstorms and flowers are two things that make Vickie the happiest.

Vickie has been a massage therapist for 15 years and she opened a successful massage business in 2009. She specializes in pain management massage and Craniosacral Therapy. She works approximately 30 hours a week, Monday-Friday, so she has a flexible schedule when the baby arrives.

Vickie is a nurturer with a gentle nature. You will almost always see a smile on her face to go with her quirky sense of humor. Most of her life she's been told that her laugh is contagious!