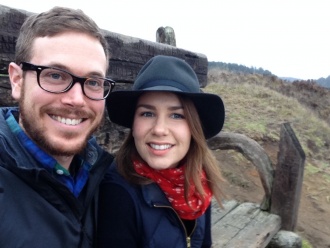 Our Story
We were introduced through a friend 12 years ago. It was love at first sight, and we've been together ever since.

Happily married for 8 years, we're each others best friends and biggest supporters.

Nicki on Drew: "Drew is the kindest, most honest person I've ever met and inspires me to be a better person every day. He's going to be an amazing father."

Drew on Nicki: "Nicki makes every person she meets feel like the most important person in the room. She's endlessly smart and kind."

After building our careers and a beautiful home in Brooklyn, NY — we couldn't be more excited to start a family.

We've always dreamt of building our family through adoption to give a child a life filled with happiness, love and opportunity.

We have two dogs, Hoagie and Tubesocks, who love kids. We're both very close with our families and believe that family is everything!!
Our Home
We live in a beautiful 4-bedroom house we've spent the last 3 years renovating.

Our house is on a tree-lined street in the family friendly neighborhood of Park Slope, which has some of the best school districts in the country.

We're a block away from Prospect Park, which is a kid's dream filled with several playgrounds, a skating rink, a zoo, and lots of other fun stuff!

We also have a lake house in the PA countryside on Drew's family's farm, which has a zipline, yard games, and great nature hikes.
As a Registered Dietitian, I'm a passionate cook and healthy eater. I run a food marketing agency and work with some of the leading food brands in the country.

I grew up in Orlando, Florida in a tight-knit family with my older sister, Jeannie, and parents, who sacrificed so much Jeannie and me to have a great education and life. I promise to always do the same for my child and have dreamt of being a mom since I was a little girl.

I've always wanted to adopt a child and after not being able to have my own, I'm certain adoption is what I'm meant to do.

Drew is my best friend, biggest inspiration, and love of my life. I'm so thankful to have him as a partner. Our adoption journey has brought us even closer together and I can't wait to get to see him be a father. It will be one of the great joys of my life.

I design headphones and speakers at a premium audio company in NYC and love cars and music.

I grew up on my family's farm in Eastern Pennsylvania, where my parents, Grandma, brother, sister-in-law and nephews live. Every summer, my family hosts a Blues Festival, featuring some of the most talented Blues musicians in the country.

Nicki and I share everything, including strong values. We both have always wanted to be parents.