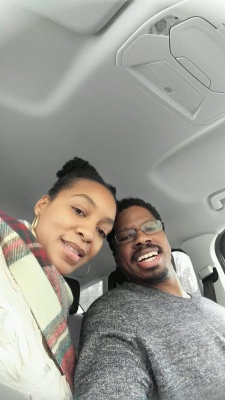 Our Story
We (Tiffany and Antwaine) met on July 9, 2013. We were introduced by a friend of Antwaine and cousin of mine. Our relationship started over the phone because we lived in two different states. We discovered we had many things in common; we are both Virgos, we both have artistic talents, we both love self help books, and we have the same outlook in life.

Antwaine and I have been together almost 4 years and married for a little over 2 years. From the beginning of our relationship we started traveling. While traveling we picked up a love for food. Our Favorite places to eat are mom and pop restaurants, especially the ones in and around our town. On Sundays and sometimes after work we hop in the car and take a drive to nowhere, just to take our minds away from the day to day. We are both working professionals and have each been working at our jobs for over 10  years and more. I work in the medical field and Antwaine works as the manager of facilities for an engineering company.

Adoption is our chosen path for building a family. I have fibroids and Adenomyosis, which are very painful on a monthly basis. They have also caused problems in my past pregnancies. Along with the two conditions, I get severely sick with a life threatening disease called Hyper-emesis Gravidarum once we conceive. After our last pregnancy in 2014 we decided that adoption was the best choice for us.

Love is the number one thing that we have for each other and that is the number one thing we can offer your child. Although we have stable jobs and a beautiful place to live, love is the foundation of our life together. Growing up we didn't have everything we wanted but we had everything we needed, our Mothers' and Grandmothers' love. I never wanted for much, my grandmother was a strong independent women that paved the way for me and my family to grow. Antwaine's Mom worked as a nurse for many years to support him and his sister. It wasn't easy for them but they made a way and gave us so much love. We would love to take that same love and share it with your baby.

As parents we will provide your baby with unconditional love. He or she will be raised with kindness, respect and compassion.
Our Home
In the Northern Suburbs of Westchester County (NY)

We live in new construction that was built four years ago. This complex and our neighborhood is ethnically diverse. Our home is within walking distance of Award Winning Schools as Westchester has some of the best schools in the country. We are within 15 minutes of two hospitals and our family is less than hour away.
Antwaine about Tiffany:

Antwaine loves Tiffany's laugh, nurturing skills, attention to details, and generosity

Tiffany's biggest strengths are her honesty,
ability to relate to and help other people,
and her willingness to try new things. She is a teacher at heart. She is always reading and looking
for way to improve our quality of life. She is always setting goals, doing vision boards, and watching
inspiration teachers, speakers, and preachers.
She will be a terrific mother and has been very active in the lives of our youngest family members.
Tiffany about Antwaine:
I Loves Antwaine's smile, loyalty, listening skills, and caring ways

Antwaine's strength has always been his best
quality. Always willing to help anyone, even
a stranger. He loves food, especially a good
steak or burger. He is also physically active,
he goes to the gym three times a week. At
times he can be very quiet, but that's good
because he paying attention to everything around him. The love that he has for my niece shows just how great of a dad he will be.