Our Story
Although we shared the same friends in college, went to the same concerts and hung around the same places at the same time our paths didn't cross until years later in 2011. Right away, we knew "this is it"! Ryan proposed in the most romantic way possible: on the Observation Deck of City Hall with views of the entire city we live in & love. We were married in 2014 and had a traditional, large family wedding. There was lots of dancing, fun, great food and so much love!!

Together, we enjoy running marathons, taking trips, skiing, playing tennis, exploring our incredible city and surrounding areas, going to hockey and football games...and most importantly, spending time with each other, our amazing family and friends!
Our Home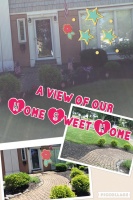 We live in a beautiful neighborhood with lots of room to run and play!! We specifically chose this neighborhood because it is located in a top rated school district. There are lots of young families around for our future little ones to play with!
Just a five minute walk away is a park with a playground and where we love to go to play tennis! We also live close to museums, art galleries, theaters, numerous parks and the zoo!!

Our home is ready to go for a baby! We have a Nursery painted mint green so it can be accessorized for either a Baby Boy or a Baby Girl! There are already books on a book shelf, a couple a binky's and a cozy blanket to wrap our Little One in!!
When I met Christin, I knew that I had met my wife. I could see the unconditional love she has for her family and how she always puts others before herself. Her beautiful smile lights up a room, and her caring heart is contagiously spread to those around her to encourage the best out of everyone. Christin is going to be the most amazing mother. She cares for her younger sister as if she were her child. She loves teaching her the importance of family, how to cook, and taking her out for fun adventures. I love watching them together, because I know it is a glimpse into our future!

Christin's Favorites:
Food: Salad, but really pizza!

TV Show: Friends, The Office

Favorite Sport: Hockey

Hobby: House projects

Guilty Pleasure: TMZ
Ryan is absolutely the most kind, genuine, thoughtful person I have ever met. He always has a way to make the most simple thing such a special surprise and memory! His passion and dedication to anything he sets his mind to is perfect for teaching our children how to be wonderful people with good hearts.
Ryan loves teaching and playing with his five Godchildren...and has has just as much fun as they do! I can't wait to see him become a Daddy!


Favorites:

Food: Lasagna

Movie: The Godfather

Favorite Sport: Football & Hockey

Hobby: Tennis

Guilty Pleasure: Christmas Music...all year long!