Our Story
We met as graduate students at Rhode Island School of Design. While in art school we quickly discovered how much we had in common and began dating and working together. We have been both a couple and business partners ever since!

We have been professional artists working in glass for 20 years and have been actively teaching workshops for the past 15 years. We design and make hand blown glass tabletop items such as vases, bowls and drink ware. Our studio is on our property where we live and we spend our time blowing glass, filling wholesale orders for shops and galleries around the country. As a result, we have flexible schedules that will allow us to spend a lot of time with your child.

A wonderful byproduct of our careers has been the opportunity to travel. As a result we have been able to visit 47 of the 50 states, as well as Australia, New Zealand, Europe and Asia. We love visiting cities, but even more, the countryside and areas that offer great hiking opportunities! We really enjoy traveling and look forward to offering our child an unparalleled education through the magic of exploration!

Since we work so closely together, we have an enormous amount of trust and respect for one another. We look forward to sharing our lives with your child and being a family.


Our Home
Surrounded by native Pacific Northwest plants, roses, a small vegetable garden, and fruit trees, is our home and studio. We are located close to the beach and several large parks near the water, yet conveniently close to downtown for museums, cultural events and family activities. We will enjoy taking a new family member for walks on the beach during low tide and discovering giant evergreen trees!

Our residential area is culturally diverse, and has a lot of kids and pets. Since we work from home, Jenny, the cat next door, hangs out with us and we love that she has adopted us as her second family. We enjoy her so much – she is gentle and sweet, and brightens our days!

We strongly believe that family is about the people you choose to have close to you in life. Lisa's family lives in Los Angeles and Boyd's in Honolulu, but we also feel that we have a family in Seattle, made up of many friends, including the large glass community in our area.

Lisa's adopted brother lives in a small town outside of Paris and we look forward to family visits to France, where our child can share an incredible bond with his or her uncle. We travel annually to visit Boyd's family in Hawaii, where our child can spend time on the beach with cousins and a large extended family.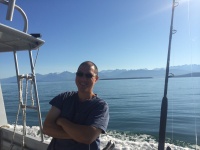 Boyd is the most honest, generous and patient person I have ever known. He treats everyone with genuine kindness and utmost respect. He is soft spoken and chooses his words thoughtfully. Boyd puts all others first and is empathetic and understanding that everyone faces challenges in life. He will be an incredible father.

Boyd grew up in Honolulu and loves to play Hawaiian songs on his ukulele. Now in the Pacific Northwest, he enjoys being outdoors and fishing. He is a gifted teacher and he will be a great role model for our child!
Lisa is my best friend. She is kind, compassionate, positive and optimistic. Lisa loves travel, hiking, art, flowers, movies, yoga and taking photographs. She is a great listener and someone her family and friends can always count on. Lisa will be a wonderful mother.

Lisa's Mom was a pre-school teacher for over 30 years and Lisa spent a lot of time as a teacher's aide. She has a lot of experience with toddlers and she looks forward to having a little one to raise and love. Lisa also loves to draw and she can't wait to have a coloring companion!