Our Story
We met on Darren's birthday nearly 15 years ago and feel like we both received a great gift that day! We've been inseparable since our first date, and married for ten years. Our love has only grown over time and we can count on each other no matter what life presents. We know how to comfort each other, make each other laugh, and solve problems together. We consider ourselves a family, but are so eager to add a little one to our lives.

We love the outdoors and travel. We spend holidays with family, and there is always an abundance of food, laughter, and great memories being made. Not only will we dedicate our lives to loving your child, but a bounty of extended family and friends are waiting to love, teach and care for your little one as well. We are tremendously excited to grow a family through adoption and to see what God has in store for our future family.


Our Home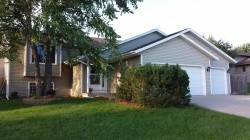 We live in the wonderful city of Rochester in southeastern Minnesota. Our home is in a family-oriented neighborhood with parks, trails and amusements all close by. Our community is known for its top notch health care facilities (Mayo Clinic, where Amy works), excellent schools and many sports programs. It's a great place to raise kids! We have a home with four bedrooms, a big kitchen and a fenced-in backyard. Amy's older sister and family live in a near by neighborhood while Darren's younger cousins and their one year old baby boy live just a few short miles away. There will be lots of young cousins and play companions for a child.
About About Darren (by Amy)
Darren is probably one of the most patient people that you will ever meet. He is hard-working and dedicated to whatever he is doing. More than anything, Darren is excited to be a stay-at-home daytime parent and find his future little fishing buddy (boy or girl!).

Darren is originally from the coast of Washington State and grew up with a fishing pole in his hand. He spent many weekends in the mountains or at the ocean where he developed a great love of the outdoors. Camping and fishing are a few of his favorite things – and he has taught Amy to love them too.

Darren is playful and kind with kids, always making sure to include them in what he is doing and teaching them new things. His playfulness, kindness, reliability and patience will translate from being a wonderful husband to a great father.

About About Amy (by Darren)
Amy is the best friend anyone could ask for. She is loyal, thoughtful, compassionate, funny and smart. She has that knack for listening and helping that is a rare and beautiful gift.

She prides herself on having a comfortable, welcoming home where we can invite family and friends over at the last minute and have a fun time. Amy loves to bake and cook. Her specialties are homemade pizza, chicken noodle soup and chocolate chip cookies. She is learning how to make homemade pasta too!

Amy loves to read and already has a list of children's books and stories that she wants to read to a little one.

Amy also has an adventurous side and loves to travel and try new things. One of our goals is to visit as many states and national parks as we can. We'd love to have a little one to include in the memory making.