Our Story
The first time we met, it was less like meeting someone and more like remembering something wonderful.

We met our first week of college, and knew we were meant to be together forever. Life has brought us through thick and thin, and every moment has been sweeter because we are together.

We've been through college together, starving happy newlywed years, young babies, late nights, thousands of diapers, big moves, job changes, thick and thin. Every memory is a blessing, and every trial has brought us closer.

It's brought us to where we are now: living with our amazing kids in the mountains of the greater Yellowstone area, where we hope to stay forever.

Matt is a Senior Web Developer, working from home. This lets us live our dreams of living in the mountains and being together as much as possible. Ann is a private yoga instructor and small business owner, but most of all, a stay at home mom! This lets the kids have her full attention.

We are best friends who still date and smack each other's bums. We can't imagine life without each other.

Our greatest blessing is this: We have a BIG family!! A big, wonderful, happy family. Perfect? No. But we think that this is about as close as it gets.

Matt and I could not have imagined when we started out just how much joy our children would bring us. Each addition to our family has increased the love and joy in our home.

The kids have been our best teachers. We are blessed to be experienced parents and we believe absolutely in being gentle and kind in raising our children.

Siblings can be an amazing part of life, like built-in best friends and a life-long support system. Big families are perfect training for life! There is no better way to learn to work together, get along, and fix what's broken. Kids really do thrive in an environment filled with love and with siblings! Feeling left out is not an option for any of us in this family. The idea that kids can't thrive in a large family is flawed. A large family that is healthy only serves to provide a bigger support system.

Our home in the mountains is an amazing place to grow up. Our adventures and discoveries only bond us closer. Life is SO MUCH better together! Our greatest joy is found in helping each member of our family dream and grow.

"Coming from a large family makes you feel protected - you have friends and allies." - Paul McGann

We love you already, and hope you'll become a part of our happy family!

(To see more about each member of our family, please see our website: mattandann.com)
Our Home
We have a beautiful home in the woods. Waking up in the cabin every day is like a dream. The house is surrounded by trees, with endless places for the kids to play and imagine. We can walk to the lake from here, and much of the summer is spent paddling around on our kayaks. There is a big sledding hill near our home, and in the winter, we are often there, sliding or snowboarding down the hill. In the evenings, you can find us making s'mores around our campfire. We live very close to dozens of hiking trails, rivers and lakes, as well as Yellowstone and Grand Teton National Parks. It's an absolutely magical place to be a child and to grow up.
Before I ever got married, the absolute most important thing I was looking for in a husband was someone who would not only love and cherish me, but who would be a kind, loving father. Matt is the best man I have ever known. He is smart and incredible at everything he does, but his best qualities are his kindness and ability to love. He is an amazing listener, a compassionate friend, and the best dad in the world. He has worked so hard to give us the life we've always dreamed of. All seven of us ladies adore him!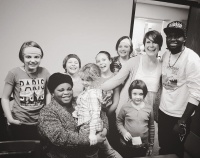 Ann is my best friend. She is a kind and gentle mother and an amazing example to our kids. One of my favorite things about her is that she loves our family so much. The kids and I matter more to her than anything else, but she also dreams big. She is constantly working on bettering herself and inspires our kids to be the best that they can be. She does everything she can to help their dreams come true.