Our Story
For us it was love at second date. We met online and have been together since 2009 and married since 2010. In our wedding vows, we promised to laugh every day and we truly do! We never run out of things to talk about. For us it's family first and we always make time to be together. We love to travel and every year take one trip to the east coast and at least one up to Santa Cruz. Together we've been all over the world and can't wait to travel even more with our little ones! We also love more simple, fun things like listening to music, going to breakfast, hiking, and hanging out on our big back deck.
Our Home
Our home is bustling with life, love and activity. Tim's parents live right next door and are always popping over to see the kids. (Tim's mom just poked her head in to borrow some tea!). We also have cousins, aunts, uncles, and Devon's parents who visit often from Santa Cruz.

We live in an extremely diverse neighborhood in Los Angeles. Our neighbors and friends are black, white, Asian, Latinx, LGBTQ, straight, young and old. A ton of our neighbors have young kids, and we live really close to a fantastic small park with two playgrounds. We also live near Griffith Park, The Greek Theater, and tons of museums and restaurants. There is no shortage of fun activities for families and kids.
Devon is the most loving, caring, thoughtful, creative, and enthusiastic woman I have ever met. She makes me laugh every day and is infectious in her appetite to learn and experience new things. I love so many things about Devon. I love how deeply devoted she is to making a difference in the world. I love how freely she gives her time and energy to helping others. I love how she finds a way to make her dreams a reality and I love her gigantic heart. Most of all I love how she loves our kids unconditionally. She is a supportive, attentive, fun and gentle mom. Devon has a way of making everyone around her feel special.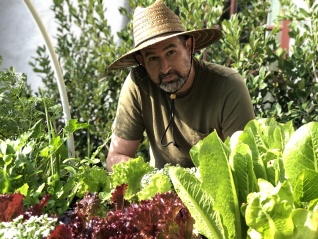 Tim is a loving, faithful husband and father. He is extremely funny and makes me laugh out loud every single day. I love his Boston-style, no nonsense approach to life. He is also the most kind, patient and attentive father I've ever seen. He is really involved in caring for the kids. He plays with them, goes on outings, and gets up in the middle of the night if they're sick or scared. Tim is very active and loves sports. He is a great beach volleyball and tennis player. He is also a very patient teacher. Seeing him be an amazing father is one of my favorite things in the world.