Our Story
We were brought together in the spring of 2001, our first date was at Hops Restaurant while Kim was visiting the area with her friends for a couple weeks, we enjoyed an entertaining dinner and the rest is history. One month later Kim was back in NC signing for an apartment and applying for jobs, and moved into the apartment complex with her friend Debbie.
Fast forward to Christmas of 2010 after nine and a half years we became engaged, and our families were totally thrilled as they had all been waiting for us to make it official!
We have always had a good relationship but between our engagement and our wedding our relationship blossomed more than ever, I guess the stress was off and we could just have fun. Along with our parents we planned a beautiful wedding and reception that took place Thanksgiving weekend 2011.
Fast forward to present and 3 houses later . We live in the piedmont of North Carolina. We have built a Multigenerational home. Kim's parents moved down to NC after retirement 3 years ago, they wanted to be with family and help raise their grandchildren. Our household also has a 7 month old Yorkie, Dixie and we have Itty Bitty and Ginger are our cats that live in the shop outside. We just lost our indoor cat Dusty , he was our first fur baby and he passed away this summer after 17 1/2 years.
We were not able to have children after 2 years of fertility treatments. Our plan was to have one and adopt one, but we went right to adoption after the failed fertility and the day we put our profile up, we were contacted, and we were parents less then 2 months later.
Kim works from home part time 730-2 renting construction equipment. She has been with this company for over 11 years. When our son came home to live with us she went to a part time schedule so she would be home to get him out the door for Grandpa to take him to school and pick him up from school. We also wanted her to be there for homework, appointments, games and anything else.
Brent has worked in NASCAR racing for 20+ years. Covid has changed the way they do the sport and Brent is home except maybe 1 or 2 days a week during the season. Back when he started they would be gone 3 at least. He has always been a mechanic or car chief, and part time spotter, but last year since he was paid to stay home because of Covid he went and spotted the Indy 500, and won. This year he has already been contracted to spot Indianapolis again and is considering a contracting spotting job for all motorsports. It would be a change for him, but a nice change for us, since he would be home.
Our son is 10 and in 5th grade , he loves cub scouts swimming , and vacationing . his favorites are visiting family , beach and amusement parks, he is quite the adventurer! We have a ziplining tour planned for him this year as long as covid lets us! He loves playing with his pets and riding 4 wheelers. You can probably hear our son and the neighbor girls playing and having fun outside swinging and running around the yard


*We are hoping for a child 9 months or older
Thank you for taking time to read our journey to becoming parents again.
Our Home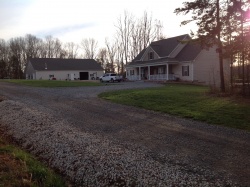 We Built our forever home almost 4 years ago. After all these years we compiled a list of what we wanted, liked and bought land to build it . Honestly we didn't want to move anymore either. We are both from up North and it is hard to find some of the same stuff like a basement and land here. This is a multigenerational home. 3 year ago Kim's parents moved down to NC from Toledo and onto the property with us and help raise and spoil their grandchildren. They are building a in-law suite attached to our home. Our home is 2 stories, 5 bedroom, 4 bath, with a walk up attic It's about 5000 sq ft We have plenty of room in and out. We have a 15x25 playroom full of kid stuff!
We love decorating for the holidays! Valentines to Christmas we are always festive!
We have a 30 ft deck and a patio below that. Lots of places to enjoy the outdoors. We have 8.5 acres with a 60x80 shop in our back yard. We also have 8ft x8ft sandbox in our backyard for playtime and a 22 ft round pool. We built a dirt racetrack also for running go carts and dirt bikes. When it snows we have a great sledding hill, that we enjoy just as much as kids. We have multiple swings in trees to play on and we have A fire pit for roasting hotdogs and marshmallows. We enjoy having holiday parties for our sons Scout troop .We also have a lot of bird feeders and bird houses in our woods , we all love to watch the wildlife. We are very blessed to have a country oasis just outside of town. We both grew up in the country and wanted our children to have room to roam, ride 4 wheelers, and just be a kid. For us it's important to let them play and be kids because they push them hard in elementary school and need a place to play , run around and adventure after school ! We had a indoor cat for 17 years , he passed in July and our year old yorkie puppy and 2 outdoor cats that sleep in the shop.
You would see a wood working project typically going on in the shop, we are always making new projects. Laughter fills the woods with the neighbors girls and our son playing. they love playing or running around the yard together. Occasionally you will see deer or turkeys in our yard. Its really awesome!
Brent comes off a bit shy at first, but then you notice he has a magnetic personality, which is what first attracted me to him. He has the zodiac sign Leo and Leos are strong, ambitious and work very hard to achieve goals, and that was probably the second thing I loved most about him. Brent is very good at his job he is a NASCAR Mechanic & spotter and has been 20 years. Even when it is tough people notice his dedication and he has always persevered.
Brent also has a heart of gold. He always thinks of others, and I remember his mom showing me a card he wrote to his friends' older sister on the birth of her first child to congratulate her. That melted my heart. His thoughtfulness and generosity is something I believe has rubbed off more on me over the years, we did convince Brent he did not have to stop at EVERY red kettle during Christmas time, he always thinks about helping others.
What is most recognizable as well is his positive attitude, which was a blessing to us over the 2 years of our fertility treatments. He always cheered me up and gave me a brighter side to look at. Even though we talked about adoption early on, Brent is the one who said, let's go ahead with the adoption process. There is something in Brent's ability to talk to people about his job or just in general to make people feel at home. He did this with my grandmother before she passed away. He knew just what to say to her, when I didn't have those words to say myself. Not sure if it was because he had a wonderful relationship with his own grandfather but none the less, it always impresses me.
Another noble quality is retaining information; it's a great thing as a wife, because I never have to ask for something twice, and after one time of learning anything, he is a pro. All of these are qualities that make Brent a wonderful, caring and giving father. I am proud to have him by my side, sharing in this journey to become parents again, and he is my one true love! Brent is a great father, and our son idolizes him! As he gets older it's like pro wrestling with these guys . Our son howls with laughter "do it again" . I love to see them play together and be silly. Although Brents not always home 7 days a week like me , he definitely makes good when he is home. Our family group hugs are by far the best. I already feel like I hit the jackpot with both of these wonderful guys!

Strong, Caring, Loving, Nurturing, Confident, and Hard Working…Those are just a few of things that that come to my mind when I think of Kim, other than the fact that she is my soul mate for life! Very early in our relationship I knew Kim would be the one that would complete my search for my soul mate; she is a great compliment to me and with the addition of our son she has showed that same love and compassion that I always knew she would as a mother. Kim's hard work and dedication make our lives ones that we cherish every day. This is something that has been instilled in her by her loving parents who raised her with a lot of everlasting qualities that make our days enjoyable. As her husband, I understand the dedication of love and caring she brings to the table. Any child would be grateful to have Kim as their mother. Respected by many of our family members and peers for her work ethic, it's almost funny too be told by your wife "I will cut the grass, you rest". It is just those kinds of things that set Kim apart from the rest. Kim has worked renting construction equipment for many years and works part time now so she can be home with our son to spend as much time with him as possible, She gets him on the bus, and works till she has to get him off the bus.
Of course I don't have enough room here to write of all the great things but just thought that was something that sets the bar of what kind of person she is! . I looked forward to the days when I could share her love and compassion with a child, and with the adoption of our first child, it was everything I thought it would be. Knowing they will be brought up with a quality upbringing, this is all the more reason to get excited for an opportunity to be parents once again. It will be another awesome journey and I wouldn't want anyone else by my side but Kim, I know in my heart any child would be lucky to call her MOM