Our Story
Welcome!

Hi, we are Barbi Jo, Egan, Faith and Alexi. We are excited to add a child to our family through adoption. We look forward to providing him or her with a life that is full of love, happiness and adventure.

We met a little over 14 years ago at an Irish Bar. Egan was headed for Africa the next morning and Barbi Jo had just returned from Africa a few weeks before. The rest of the night was a blur as stories of travel took over the evening and we figured out how much we had in common. We began dating as soon as Egan returned from his vacation and we were married two years later. We spent our first years of marriage trying to travel as much as possible. We went to Thailand, Vietnam, Mexico and also traveled within the United States. Three years later we had our daughter Faith and a year after that we had our other daughter Alexi. We are at a place in life where we would like to grow our family by one more. ❤️ We will provide a child with what we believe are core values. Honesty, love of family, dear friends, the best education, a passion for staying active and a healthy self esteem.

We wish you only the best in your journey, wherever it may take you. We realize the decision to choose an adoption plan is difficult and hope you find peace and comfort in choosing a family for your child.

Our Home
We live in a family oriented neighborhood full of dogs and kids! We are a three block walk from the elementary school. We are also just a few minutes from the YMCA, many parks and even the beach. We are close enough to the city that we can ride our bikes to work in 30 minutes. We have the best of both worlds by being able to enjoy the city and what it has to offer but also live in a pretty, quiet and safe neighborhood right outside the city.

We purchased our home 6 years ago. The house has four bedrooms, two of which are right next to our room. A new baby will be in our room for the first few months and then will move into a bedroom right next to ours.

About three years ago we renovated the backyard to make it a place our kids would want to play and have lots of friends over. The kids favorite part is the huge trampoline! Egan and I love the BBQ, heat lamps and patio which allows us to host impromptu summer get togethers.
About Egan (written by Barbi Jo)
Egan is an amazing friend, husband and father. I was first drawn to him by his outgoing personality but fell in love with him due to his positive outlook on life. He is smart, over the top talented at almost anything he tries and kind to everyone he meets.

He makes new friends and strangers feel at ease within minutes of meeting him. He is a fabulous Dad who joins the girls in their playtime and supports them in whatever they want to do. He is right by their side whether its making monster cookies or playing the dance game on the kinect. His newest venture is coaching their soccer team. He has played soccer since HE was five and he is a great coach. I know he will give all the love he has to a new little one and continue to be an amazing father to our dream family of three kids!

About Barbi Jo (written by Egan)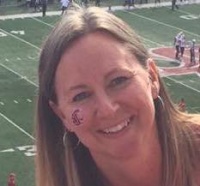 Barbi Jo is the type of person everybody loves to be around due to her easy going personality and open mind. She is a very level headed person which helps her manage many aspects of our family's life. Her dedication to family and friends is obvious as she views these people as the single most important aspect of her life. She is a very friendly, funny, smart woman with grounded morals. As a mother, Barbi Jo is loving, caring, and kind. She always takes time to spend with the kids whether she is taking them to swim lessons, reading them "Oh, The Places You'll Go" by Dr Seuss or having a who can swing the highest contest at the park. She is a big believer in raising confident and independent kids. She is just an amazing Mom. On top of that I have never been more pumped to be married to her.